Key case fasteners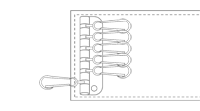 Hurbane key case fasteners
For its fastener system, Hurbane concentrated on practicality and simplicity, always meeting male requirements.
Renouncing the traditional keyring, so difficult to force apart to insert large keys, Hurbane decided on the 6 hook rail model.
Easy to open, the attachment hook will allow you to slide in both your small keys for mailboxes, your scooter or even your car keys.
With their 360 degree swivel head, these fasteners hooks finally offer an ultra practical way to use your set of keys on a daily basis, selecting the right key by pulling the top of the hook out of the key case.