The measurements of the travel bag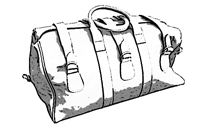 The measurements of the Hurbane men's travel bag
Luggage with ideal measurements to facilitate your travels. (Length 55 x width. 30 x ht 30 cm)
The Hurbane leather travel bag has been designed to perfectly meet the requirements and constraints associated with travel. Its format ensures ease of transportation, as it can be carried by hand or on the shoulder, and most importantly, it will follow you into the aircraft cabin to avoid checking in luggage.
Made of soft leather, it offers a perfect modularity to fit in the luggage compartment or in the boot of a car, where suitcases or other rigid luggage clutter up space so quickly.
Moreover, thanks to its open and close "pushbutton" on the principle of the old doctors' bags, it offers an aperture and depth of content that is more than adequate! Now you can "pack your bags" without restrictions!
What's more literally wrap your luggage; Hurbane has equipped its travel bag with 3 metal loops in which you can strap 3 leather straps dedicated to this purpose.