The passport cover model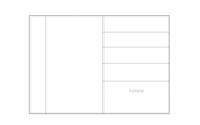 The format of the Hurbane passport cover
Wallet, card holder, passport cover: it does it all!
A larger but still convenient and compact format. The Hurbane passport cover model finally offers comprehensive storage for your cards, identity papers, licences and tickets. It was especially designed with the globetrotter in mind, travelling for business or leisure. No need to "remember to take your passport," or getting in a tangle to present it open the right way up and on the right page. This men's wallet is truly unique: first by its original leather colours, and even more so by its design that allows you to slide your passport in and present it already open.
The right hand side is dedicated to storage of your credit cards and other badge cards, with an inner slot for bank notes.
100 x 140mm format fits easily into a trouser or jacket pocket, without distorting the shape.
This men's wallet is definitely the "Swiss Army knife" of leather goods. Naturally, just like the Swiss Army knife, it is a 'must'!